22 Amazing Pics Of Drinking Glasses
To enjoy your drink to the fullest, you'll always require the perfect glass or mug from Last Drop Mugs. Whether its juice, coffee, soft drinks, wine, cognac or champagne, the glass in which the drink is poured matters!
If you're looking for something different and amazing, you've come to the right place. Below are 22 of the most creative glasses that we've conjured up.
Be the hit at your next party. We've got you covered and provided links where you can purchase them below.
Have you seen any cool drinking glasses in your neck of the woods?  Leave a comment below and share with us!
1. Crinkled Glass
Something to remind you of your summer picnics with your friends.  Made from recycled glass. (Designer: Rob Brandt)
2. The Moist And Marry Glasses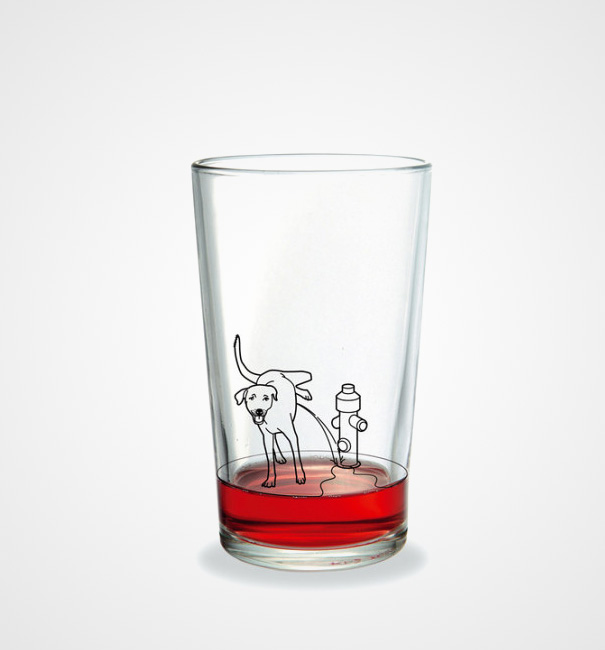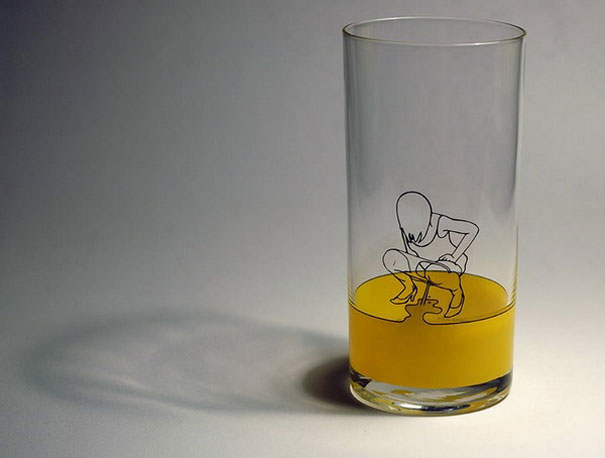 The "Moist and Marry" drinking glasses are sure to spark conversation at any dinner table as guests peer at the image of a dog urinating on a fire hydrant imprinted on their glass. If dogs don't do it for you, the little boy option is a nice touch. Just beware of serving beer in these glasses. (Designer: Donkey Products)
3. Hopside Down
For those who like to chug their beer right from the bottle. (buy)
4. Mustache Glass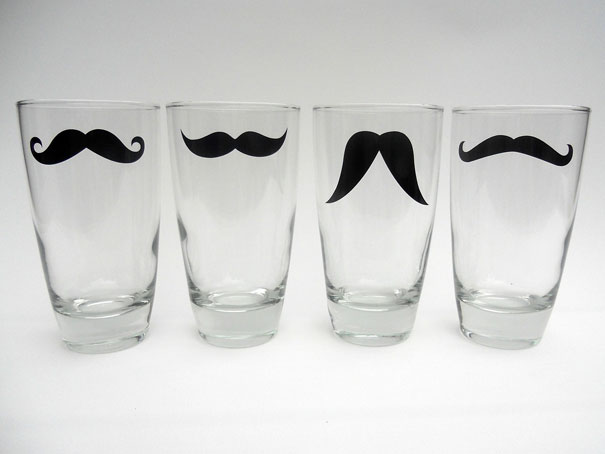 Get your stash on! Takes sipping on your favorite beverage to a whole new level. Great gift idea for young and old alike. (link)
5. Butterfly And Spider Glass Set
All three glasses combined:
The set of 3 glasses consists of a butterfly, spider and spider web printed on each glass. When put on top of each other, each are connected. (Designer: Propaganda)
6. Botanical Glass
Bombay Sapphire is pretty unique with a delicate botanical flavor. Of course the most luxe martini drink demands the same from accompanying glassware. Benjamin Hubert has designed a martini glass to reflect that aesthetic. Hand blown and shaped, this martini glass evokes the organic and botanical sensibility of Bombay Sapphire. (Designer: Benjamin Hubert)
7. Denture Glass
Drinking from this glass should feel similar to the way you'd feel if you accidentally drank from a glass where your grandpa keeps his dentures. (link)
8. Swimmers Glasses
Pour a drink and it'll look as though these kids are diving in your beverage. (link)
9. This is [not]glass
"We're glad that someone has finally caught on to our tendency to treat wine glasses like they're soup ladles." (Designer: Jeremy Brown)
10. Half Full
Is your glass half full or half empty? If you're like most people, you're never quite sure. But this clever 7-ounce glass reminds you that Half Full is where you'll always find refreshment. (buy)
11. "EvOlverre" One Glass For Every Drink
This glass uses the same head and a different base for 4 main glass-specific types of drinks: water, cognac, wine, and champagne. (Designer: Utopik Design)
12. Glass Tank
A device consists of a bulb shaped container with the glass below. When the amount in the glass decreases, a constant amount is poured from the tank into the glass. Never overflowing from the glass because of air pressure and water pressure. (Designer: kyouei design)
13. </head> Tag Beer Glass
Don't lose your head! (link)
14. Crowd Glasses
If any one of the people walking around the rim of this glass was paying attention and not chatting on their cell phone, they may realize that when this glass is being used they are all upside down. (link)
15. Champagne Flute
Double-walled glass keeps your champagne cold for much longer. (Designer: Alissia Melka-Teichroew)
16. Martini Glass
Just like #8 Champagne Flute, this Martini Glass is from the same InsideOut series by Alissia Melka-Teichroew. Made out of hand-blown borosilicate glass, it has the advantage of double-walled glass, which provides insulation, thus keeping your drink colder for longer. (Designer: Alissia Melka-Teichroew)
17. Plastic Cup Wine Glass
It's the perfect glass for wine lovers who like quality products, but don't take themselves, or their wine hobby too seriously. (Designer: Maxim Velcovsky)
18. Winestein
You like sipping wine, but sometimes you're just more comfortable with a mug in your mitt. Well this double-walled do-it-all lets you have it both ways. Elegant wine stem on the inside, manly beer stein on the outside, it's a glass for all reasons. So pour yourself a nice measure of vino, grab it with gusto, thoughtfully inhale the bouquet, then toss it back. (buy)
19. H2Eau
You could call this carafe-and-glass combo an optical illusion, but that reminds us too much of something tacky from Blackstone the Magician. The French "trompe l'oeil" sounds so much cooler. Okay, back to the carafe — it looks like a stack of disposable plastic cups, but there's just one cup sitting on top, and it's all hand-blown from crystal clear borosilicate glass. Perfect for a bed stand, desk, or anywhere you need to keep hydrated! (buy)
20. O-Glass
Under normal circumstances a drinking glass with an extra hole in it is a messy proposition. Now you can use this magical hole to hold a napkin, pencil, spike, etc. Plus, it creates an easy storing potential in bars. (Designer: Alvaro Lagos Vasquez)
21. BOULES Tumblers
Striking aesthetics and elegant timelessness with a touch of playfulness. Each tactile glass is skilfully mouth blown and hand finished with delicate lenses, which give a surprising visual element. BOULES' curved and heavy bottoms allow the tumblers to rock, while the lens guarantees a stable position at a playful angle. (Designer: Absolute Appetite)
22. Cipher Drinking Glass
An empty glass resembles a meaningless colorful mosaic, until a liquid is poured into it, revealing its name. Each side of the glass is reserved for a specific drink. (Designer: Damjan Stankovic)