What's With Huge Clown Shoes?
Whether you think they're a great addition for your child's birthday party or demons sent from hell to keep you awake at night, clowns have been around for ages and are imminently recognizable, from their red noses to their comically oversized shoes. But where does the tradition of clown-size shoes come from?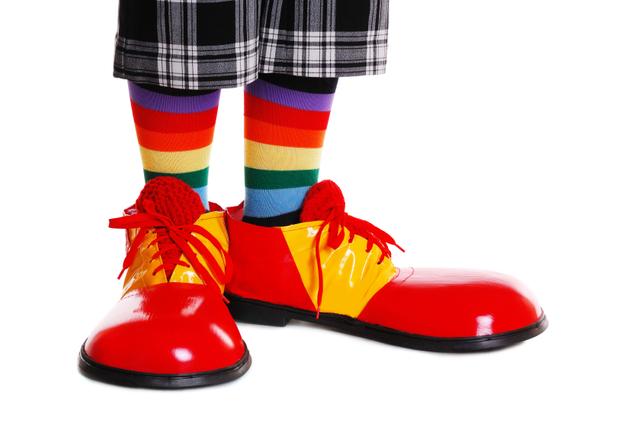 If you ask a clown, you're bound to get some eye-rolling answers packed to the gills with puns about how much "sole" clowns have, or what a "heel" they can be. Let's skip to the less-painful answers, shall we?
The tradition began as early as the 17th century, when English touring theaters like Pickelherring, John Posset, and Stockfish made their way through Germany. They played up their goofy stage shoes by wearing extravagantly oversized clothes, including huge shoes. These major actors would go on to inspire later clowns in the early 1800's, like Pierrot, a French clown known for his white face paint, and Joey, nee Joseph Grimaldi. This early English clown has been called "the earliest of the true circus clowns" by the Encyclopedia Britannica, and is the earliest "modern clown" to use the exaggerated work shoes for men and clothes for a comic effect.
Contemporary clowns are dedicated to preserving and re-inventing the comic customs of their forbearers; clowning might be big fun, but it's also steeped in history and tradition!