What are the 12 days of Christmas? (and the list & gifts)
"On the first day of Christmas, my true love gave to me…" and the song goes on and on and on, all the way to the 12th day of Christmas. There's no way of escaping "The 12 days of Christmas" carol which is sung everywhere, from malls to television commercial and church functions; even the streets and Christmas markets are full of this melody. "On the ninth day of Christmas, my true love gave to me…"See? Not even I can get away from this melody while writing this article. Still, you might have asked yourself numerous times what are the 12 days of Christmas. As long as you remember, there is only one, maximum of 2 days of Christmas that you spend with your dear ones. Where are the other 10? Well, the answer is quite simple. What is not simple is how this song got stuck in our minds for so long.
"On the seventh day of Christmas (Deck the halls)/ My true love gave to me (with boughs of holly)"… I'm trying hard to get it out of my head now. Still, let's move on to the serious stuff!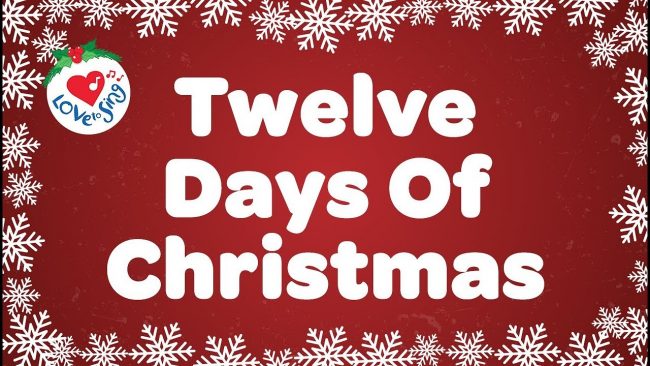 What are the 12 days of Christmas?
The 12 days of Christmas are the 12 days from the actual birth of Jesus Christ, on Dec. 25 to the Epiphany, celebrated on Jan. 6, the day when the manifestation of Christ's glory was realized. On Jan. 6, the three Magi, the three wise men are coming. This celebration is also called the Three Kings' Day. And while we're at it, let's make clear another name that comes associated with this Christmas period. Advent! The Advent is the four weeks period preceding Christmas, from the fourth Sunday before Christmas to December 24th.
Depending on the family you grew up in, some of us got to observe the feast days of various saints in these 12 days of Christmas, like St. Stephen on December 26th. However, if you grew up in a not-so-Christmassy family, then after December 25th things went back to normal.  So, what is with the song? "The 12 Days of Christmas" is a famous Christmas carol that speaks of all the wonderful gifts received from the "true love" during this period. Each verse comes after another and another, like a carousel and you just cannot get it out of your head and you risk annoying all your family members over the course of the holidays. Even if it speaks of a love affair materializing in gifts for the loved one all throughout these 12 days of Christmas hopefully leading to a steamy night where love is consumed, the origin of the song is much older than you'd expect.
12 days of Christmas list
Here is the 12 days of Christmas list, the verses of the song, along with their supposed symbolism:
A Partridge in a Pear Tree – Jesus Christ
Two Turtle Doves – The Old and New Testaments
Three French Hens – The three virtues of Faith, Hope, and Charity
Four Calling/Collie Birds – Four gospels, Matthew, Mark, Luke, and John
Five Golden Rings – First five books of the Old Testament
Six Geese-a-Laying – Six days of creation before God's rest on the seventh day
Seven Swans-a-Swimming – Seven gifts of the Holy Spirit
Eight Maids-a-Milking – Eight Beatitudes
Nine Ladies Dancing – Nine fruits of the Holy Spirit
Ten Lords-a-Leaping – Ten Commandments
Eleven Pipers Piping – Eleven faithful disciples
Twelve Drummers Drumming –Twelve points of belief in the Apostles' Creed
What are the 12 days of Christmas gifts?
Here is the list of 12 days of Christmas gifts that her true love gives to her in the song:
A partridge in a pear tree,
Two turtle doves,
Three french hens,
Four calling birds,
Five gold rings,
Six geese a-laying
Seven swans a-swimming,
Eight maids a-milking,
Nine ladies dancing,
Ten lords a-leaping,
Eleven pipers piping,
Twelve drummers drumming.
The total comes out to be 364 gifts!
The 12 Days of Christmas song is 239 years old?!
Yep, you've read that well, there's no typo in there. The ubiquitous song which is probably playing right now around you while you're reading this article is rumored to be of French origin, but nevertheless, it was first printed in England, in 1780. As you might begin to believe now, this song was not meant to be a Christmas love song after all. Actually, it might have been some sort of hidden prayer for the Catholics in the 16th-century England who could not freely practice their faith in England because Catholicism had just been outlawed by Henry VIII.
It seems that the "true love" mentioned in the song is not a significant other, but rather God Himself who, in Christianity is pure love. So, the man is not singing to his beloved, but rather to God Himself. The "me" who receives all these presents could be the baptized person, the Christian who is part of God's plan. Each of these days represents one element and symbol of the Christian Faith that every little kid in the Reformed England could be taught. For example, the partridge in a pear tree is actually Jesus Christ. The two turtle doves are The Old and The New Testament, while the three French hens are Faith, Hope, and Charity, the three main theological virtues of Christianity. However, is that really so?
Is 12 Days of Christmas really a coded prayer on Christianity?
There is no documentation or any kind of historical evidence pointing out to this secret history of the song although all the arguments from above seem quite plausible. Yes, the lyrics sound a bit old but that might also be because the song was first printed in 1780, in an English children's book. However, many scholars believe the origins of the song are French. Anyhow, again, there are is no real evidence of that.
Nevertheless, The 12 Days of Christmas was never the same; it changed across the years. From "bears a-baiting" to "ships a-sailing" and "very pretty peacock upon a pear tree", the poem eventually received music and became a song. Frederic Austin, an English composer thought this was a good idea, and by 1909, the poem turned into a song very similar to the one you cannot get out of our head right now. From "colly" to "calling" and "five golden rings", the old collective poem turned into a real carol.
Someone actually calculated the cost of all the gifts in 12 Days of Christmas
Yes, that's right. Someone did that. It's the folks at PNC Bank who release a Christmas Price Index every year in which you'll find the modern-day cost of all the gifts from the famous Christmas Cost. So, nowadays, if you ever wanted to surprise your girlfriend with all those gifts, you would have to spend a whopping $39,094. Well, spending all this money on your girlfriend's Christmas presents proves there's a lot of love around, isn't it?
In the end, we hope we satisfied your thirst for knowledge when it comes to the 12 Days of Christmas carol and we hope you'll manage to get it out of your head the moment you finish up this article. I personally couldn't…
"On the second day of Christmas, my true love gave to me,
Two turtle doves and a partridge in a pear tree.
On the third day of Christmas, my true love gave to me five golden rings"(…)