What's The Story Behind the Fighting Blue Hens?
Diminutive though it may seem, a pissed off chicken is nothing to scuffle with. If you've ever experienced the wrath of an angry hen firsthand, you know how aggressive the little ladies can be. Still, is a hen really the mascot you want for your sports teams to demonstrate their determination, strength, and power? Other sports teams have elected for bulls, rams, little irish men with their fists up, and tigers to represent them; even the UConn huskies look more ferocious than the little blue hen that the University of Delaware has been using as a mascot for the past century. What is the story behind the Fighting Blue Hens?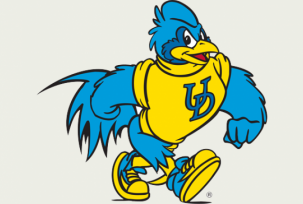 To get to the bottom of it, you have to go pretty far back in history – all the way back to 1775, in fact. In that year, Congress called upon three counties along the Delaware River to muster up some troops for a battalion. The second company, led by Capt. John Caldwell, used to pass the time engaging in cockfighting with the Capt.'s gamecocks. Caldwell's bluish fighters were an especially ferocious brood known as the Kent County Blue Hens. When the troops of the second company proved to be as resilient and aggressive as the chickens themselves, they took on the moniker "Caldwell's Gamecocks."
The legacy outlived Caldwell, who died in 1777, and the Delaware company was known across the states as "The Blue Hen's Chickens," an homage to their undying dedication and courage. The University of Delaware helped keep the legacy running to this very day when they took on the mascot of the Fighting Blue Hen in 1911.