What Happens To The Money From NFL Fines?
The National Football League really seems to love doling out massive fines to members of its many teams; case in point, a $5250 fine for inappropriate footwear when Brandon Marshall of the Bears wore green shows for Mental Health Awareness Week. The offense? Not having the shoes cleared in advance by the NFL. Or how about Ndamukon Suh of the Lions, who received a hefty $100,000 fine, for blocking illegally. What does the NFL, probably one of sport's most lucrative organizations, do with those big bucks? If you want to bet on any NFL team, you can put your trust on sites such as book of ra online casino.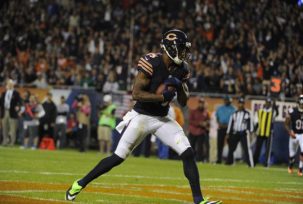 As it turns out, those fines don't actually go to fill NFL official's coffers, but are instead donated to charities and non-profits, as well as helping support players who have retired. When Ryan Clark of the Steelers asked the NFL if they would return money collected from fines if there was a player lockout, the league said that they couldn't return the funds because they were already being spent on disaster relief, and medical charities, as well as the NFL Players Association Player Assistance Trust and the NFL Player Care Foundation. The former is there to help provide financial assistance when football players' families are facing a crisis, while the latter provides support, both financial and emotional, for retired players.
Players will often request that the money they give for fines is doled out to specific causes, though NFL's David Krichavsky says the organization remains "universal" when it comes to handing out the sizeable donations.
So what did Marshall think of the hefty fine? He was more than happy to pony up, and said that he would be willing match it with a donation to his own favorite charity. As for the offending shoes? They were auctioned off for charity, as well.